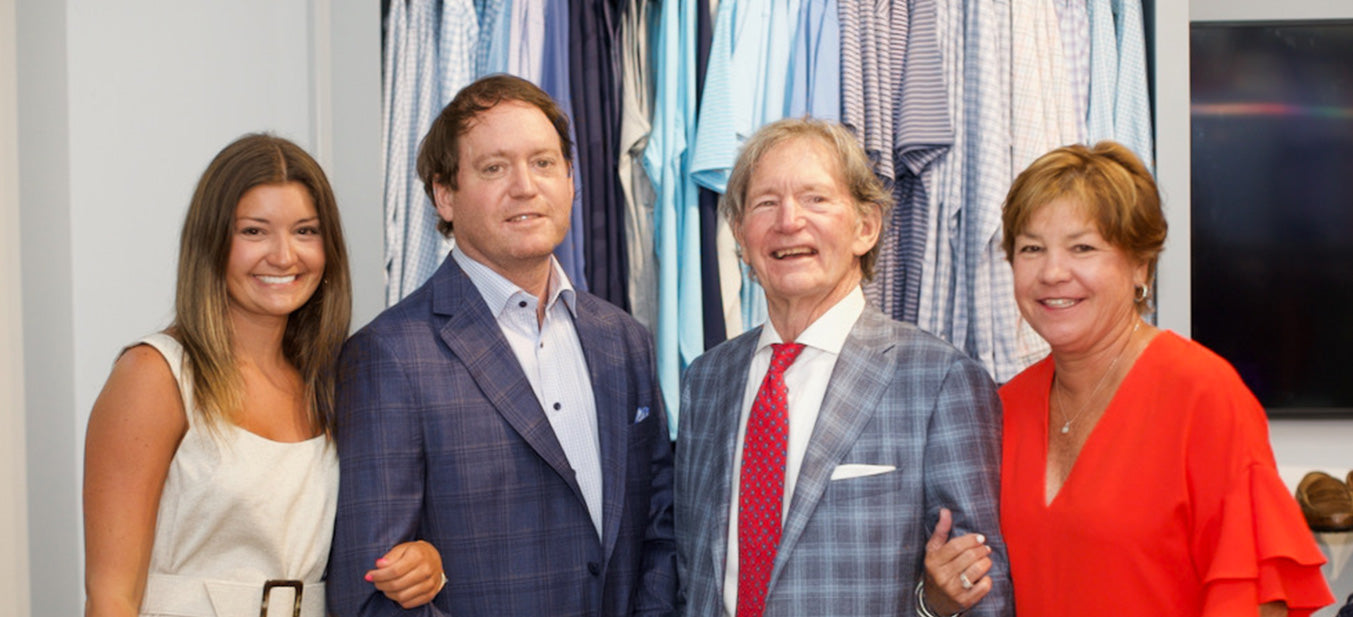 About J. Parker LTD
Good style truly runs in the family for the Parkers. For five decades, J. Parker Ltd has been a Savannah institution for generations of locals looking for the best names in men's suiting, formalwear, and sportswear. As the business celebrates its 50th year in Savannah along with 13 consecutive wins for Best Men's Clothing in the Best of Savannah Magazine, the family reflects on where they've been and where they are going. Family is the operative word when describing J. Parker, as the brand and family are synonymous. It's impossible to talk about menswear in Savannah without mentioning J. Parker, and you can't discuss J. Parker without talking about the Parker family's deep roots in this community.

Jimmy Parker opened his first store in Medical Arts Shopping Center in 1972, after working in a variety of clothing stores throughout college. The Medical Arts location would be the place to go for quality menswear and phenomenal service for over 33 years. For decades, it wasn't uncommon to hear Jimmy's voice on tv or on the radio proclaiming "I don't know how we do it!".

In 2005, Jimmy jumped at an opportunity to move the iconic shop to Broughton Street as the revitalization of downtown Savannah was underway. This move coincided with the next generation joining the family business, as his eldest son Kieffer spearheaded the effort and still runs that location today.

2015 saw the beginning of a new chapter for J. Parker as Jimmy's wife Dale retired from a successful 25- year career as a beloved coach and teacher at Savannah Country Day School. Soon, she too became fully immersed in the family business. A Savannah native and standout athlete in her own right at Calvary Day School, as a coach, she led the Country Day Lady Hornets Basketball team to the state playoffs 16 of the 18 seasons. In 2019, Dale was inducted into the Greater Savannah Athletic Hall of Fame for her decades of commitment to coaching. She sees many similarities in running a successful business and coaching a team. "I lead in many of the same ways I coached. I tend to treat my employees like players on a team. We all have a job to do so it's important to empower people while being positive and encouraging," says Dale.

Since coming onboard full time with the company, Dale has overseen the rapid and successful expansion of J. Parker. She was the driving force behind the opening of their second location in 12 Oaks Shopping Center in 2018, followed quickly by a third location in the new Plant Riverside District in 2020. This presented its own set of unique challenges and delays with the pandemic underway, but Dale and company rose to the occasion, not only opening the third location, but also adding ecommerce capabilities to their website as well as curbside pickup and delivery to their local customers. In early Fall 2022, J Parker will open their fourth location in Bluffton, South Carolina, marking their first expansion outside of the Savannah market and introducing the J Parker experience to the Low Country.

Additionally, Dale and daughter Taylor introduced a variety of womenswear to the stores, further expanding the reach and appeal of the J. Parker brand. While Taylor has chosen to follow in her mother's footsteps and become a teacher, she still joins Dale at markets from Dallas to New York to help find new lines and unique items for each store, utilizing her Fashion Merchandising degree from the University of Georgia.

Anyone who's shopped at J. Parker knows that it's a special experience. Not only are the brands classic and contemporary with more selection than other local men's stores, but the experience of being in the store can be just about as memorable as the pieces hand-picked at market. Many a newly minted member of the St. Patrick's Day Parade committee has purchased their signature green blazer to wear on Savannah's favorite holiday, and classes of Benedictine Cadets remember getting their school uniforms from Jimmy. It's not uncommon to go in for an outfit or gift and end up hanging out, catching up with friends, seeing some familiar faces, or taking a load off with a cold beverage.

J Parker features a large selection of Peter Millar and features the johnnie-O "store-in-store" at all locations. Additional menswear lines include Smathers & Branson, Martin Dingman, Hickey Freeman, Barbour, and Filson in addition to womenswear from Paige, Rails, Bella Dahl and many other lines. And who in Savannah doesn't recognize the signature crab logo of a Jimmy Knows shirt from their own signature brand? Many of these brands can now be purchased at jparkerltd.com. On-site tailoring, their Made To Measure program for men's and women's custom shirts and suits at the 12 Oaks location, and The Formal Shop outfitting a new generation of Savannahians in tuxedos for proms, weddings and other formal occasions round out their unique offerings.

While 50 years is a huge milestone, the Parkers are not just reflecting on their past success. With the Bluffton expansion in their sights, they are focused on the future and the continued growth of the family business. Dale is quick to point out that they wouldn't be where they are today without Jimmy's keen eye, their strong family bond, and the legions of loyal customers locally and regionally. Each location has its own unique vibe, and the Bluffton store is sure to be no different when it opens this fall. The Parkers look forward to bringing their sharp sense of style to the Low Country with the distinctive service and hospitality which is firmly woven into the fabric of the J. Parker brand.